So this is week two of participating in
Ann's
Multitudes on Monday - One Thousand Gifts link-up and already I am behind. If you've been here long this probably comes as no surprise. :)
This weekend was stark.raving.crazy for us. Friday and Saturday we had a yard sale. Saturday was National
Cupcake Kids
day to raise money for
SixtyFeet
and since we were already having a yard sale I decided to go ahead and throw in 100 cupcakes as well. :) Sarah and the boys made half the cupcakes, I iced them all, and then we sat at our little table with all of our posters and took donations for them. Actually, Sarah and I say there while the boys played inside. They weren't as excited as we were. About noon the wind was so bad that I closed up shop for the cupcakes and decided to take the rest to
our church's
Cornhole
tournament that night. But before I could do that I had to take Silas to Bella's birthday party at the park.
Sunday was normal with a long band practice for our Good Friday Night of Worship thrown in and an extra long small group time.
See?

Crazy weekend.
But it was so good and fun. :)
We ended up raising nearly $300 for
SixtyFeet
- a ministry to imprisoned children in Uganda. :)
I'm so thankful for friends and strangers that choose to be generous.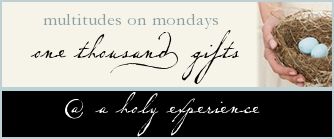 35. the possibility of dreams coming true
36. 85 degree weather
37. a husband that is an encourager
38. piles of laundry folded and put away by Justin
39. relational ministry
40. a husband who gets up to "check" when things go bump in the night
41. gifts from friends - particularly pralines from Savannah, GA
42. patches of clover in the backyard - good for searching for the 4-leaf variety
43. happy childhood memories
44. having my feet "cleaned" by Silas
45. crossing things of my to-do list
46. that He bought the Kingdom for us
47. a fiercely loyal husband who's always in my corner
48. how running helps release tension
49.

TobyMac

on my running

playlist
50. Cupcakes for Africa and generous people
51. Palm Sunday and the truth of "hosanna"